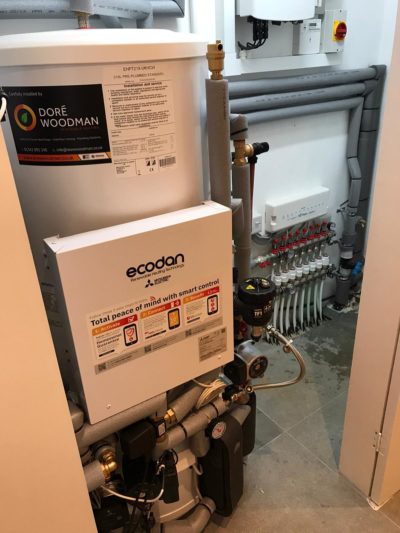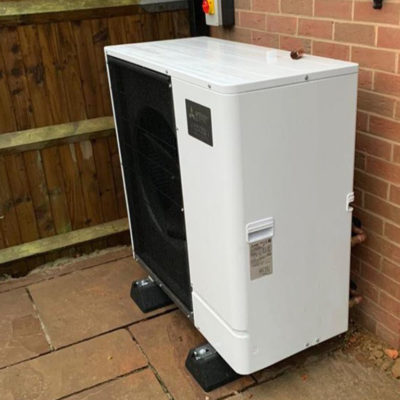 Heatpumps have been in the UK for many years, a simple and clean technology, often there has been concerns about effectiveness and usability but we want to stress that heatpumps designed, sized and installed professionally and by an MCS accredited business, will provide you with worry-free, environmentally friendly and cost-effective heating and hot water for many, many years.
Air source heat pumps are outstanding ways to heat your home, replacing the gas or oil fired boilers, transforming your home to a more eco-friendly household, but also saving you money on your energy bills.
The government have designed a financial incentive to encourage homeowners and landlords like you to use renewable heating systems, and at the same time help towards the UK's promise of lowering its carbon emissions. In spring 2019, the Government announced that 'fossil-fuel heating systems' would no longer be installed in any domestic new build properties from 2025 as part of the Future Homes Standard. These systems include gas and oil boilers. Dore Woodman are dedicated to deliver this Government promise, to lower the UK's carbon footprint and make these renewable heating systems accessible to homeowners, developers, and landlords.
Quarterly payments are made over a 7-year period, to people who have joined the scheme by installing heating systems that use natural, green energy and comply with its regulations. These payments help towards the cost of installation and give you every reason to make the move over to a greener energy system – not only do you benefit from the very latest in renewable heating solutions but you get paid to do it!
You must ensure that you work with an MCS accredited installer to ensure you are able to receive your RHI Grant. Dore Woodman are proud to be MCS registered, so you can be safe in the knowledge that not only are we great at what we do, our work has been and will continue to be checked to ensure the highest standards of service.
Benefits
• No need for gas or oil boilers
• One system to control your heating and hot water
• Ultra-efficient
• RHI Grant qualifying – many thousands of pounds over 7 years
• Benefits from only 5% VAT
• No need to pay for gas supplies for new builds
• Quiet, clean and tucked away outside
• Fully monitorable via smartphone app technology
• Great for house resales due to futureproofing
• Can be used to provide heating via Underfloor Heating and/or Radiators
How do heat pumps work?
Air Source Heat Pumps are compatible with radiator central heating systems, underfloor heating systems and warm air convectors, and can easily be connected to your hot water system.
An air source heat pump is placed outside of the property, and extracts heat from the outside air, which is absorbed into a fluid at a low temperature. This fluid is then passed through a compressor which increases the fluid's temperature, and is transferred at a higher temperature, via a condenser to your heating and hot water system.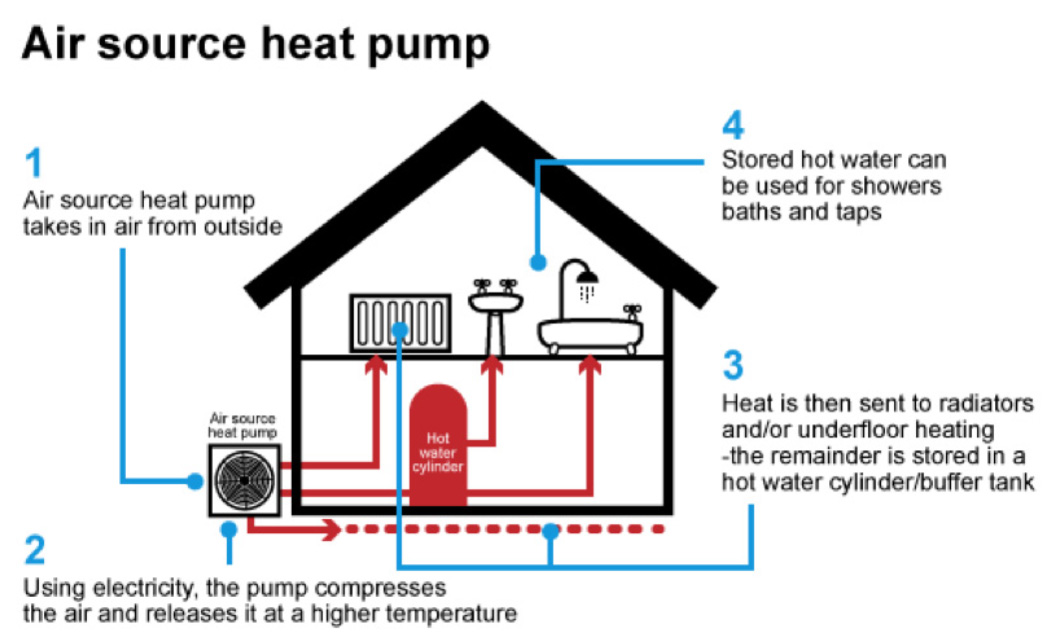 The physical heat pump looks similar to an air-conditioning unit and causes minimal disruption to the property and you, as residents, upon installation.
There are 2 types of Air Source heat pumps:
Air-to-water – these take heat from the air outside and dispenses it into your wet central heating system. The heat produced is cooler than that of a conventional boiler, therefore many people take this opportunity to install underfloor heating systems or larger radiators to maximise this new heating system.
Air-to-Air – these collect air from outside and distribute it into your home via fans. These types of systems can be reversed during summer and used to supply your home with cool air, however they are not compatible to heat water.
How effective are Air Source Heat Pumps?
Air source heat pumps are notably more cost effective than gas or oil boilers, generating 3.2kW of electricity for every 1kW used to power the pump.