Dore Woodman operate in Kent, Surrey and Sussex and supply, install and maintain renewable energy products and high quality heating and plumbing solutions. We focus our efforts on residential air source and ground source heat pumps and underfloor heating installations.
We are proud to be MCS registered which means not only are you able take advantage of cutting- edge technology to reduce their energy bills but we are able to work with you to ensure you receive your RHI Grant allowance, safe in the knowledge that not only are we great at what we do, our work has been and will continue to be checked to ensure the highest standards of service.
Our renewable heating solutions enable you to actively reduce your carbon footprint and benefit financially in the short, medium and long term. The systems that our manufacturing partners create are a perfect solution for households, landlords and developers who want to contribute positively to our environment and go green.
Most critically, we are fastidious so as to ensure each customer's individual needs are met by fitting the best, innovative and most suitable renewable heating system.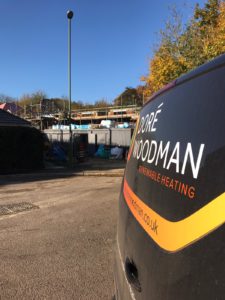 The team at Dore Woodman has a unique blend of experience both commercially and technically so, from start to finish, you'll have peace of mind that your install is in the right hands. As a local business we know the importance of delivering a cost-effective, top quality service and always put you first from survey to completion of works. Our team works tirelessly to impact on your home as little as possible and we pride ourselves on leaving your home clean and tidy once we've finished.
People and their homes first, not profit
Flexible solutions putting the customers needs first
Transparent, honest, organised, advisory and communicative
Polite staff, considerate, attention to details and tidy
Always available to discuss concerns and queries
Fairly priced
Support during and after, not just to win your work